What is your name and where are you currently?
Mike Karam, I'm currently in Haddam, Connecticut at my weekend home.
*
Are you where you normally live?
Normally you could find me at my apartment in Brooklyn Heights, but during the quarantine my partner and I are staying at our house in the country.
*
What are you currently reading?
Bunny Williams, On Garden Style
*
What are you currently watching?
Just finished Ozark and Homeland. About to start watching Hollywood. I'm also re-watching the Ken Burns documentary The Roosevelts on PBS.
*
What are you currently listening to?
My meditation playlist on Spotify, Lou Doillon, Natalie Merchant and The Cranberries
*
What have you been eating the most? Do you have a recipe to share?
Luckily my partner Nick loves to cook, so he's been cooking a lot of pasta, soups, baking breads and grilling. He made this incredible spiced chickpea with coconut and turmeric soup. I think it's called "The Soup" from the NYT.
Here's the recipe:
https://cooking.nytimes.com/recipes/1019772-spiced-chickpea-stew-with-coconut-and-turmeric
*
How are you moving your body/exercising?
I've been doing a lot of gardening and landscaping projects. I built a stone wall, a little boardwalk path to the stream, laid a bluestone patio, and now I'm onto spreading an enormous pile of mulch to make the plants happy.
*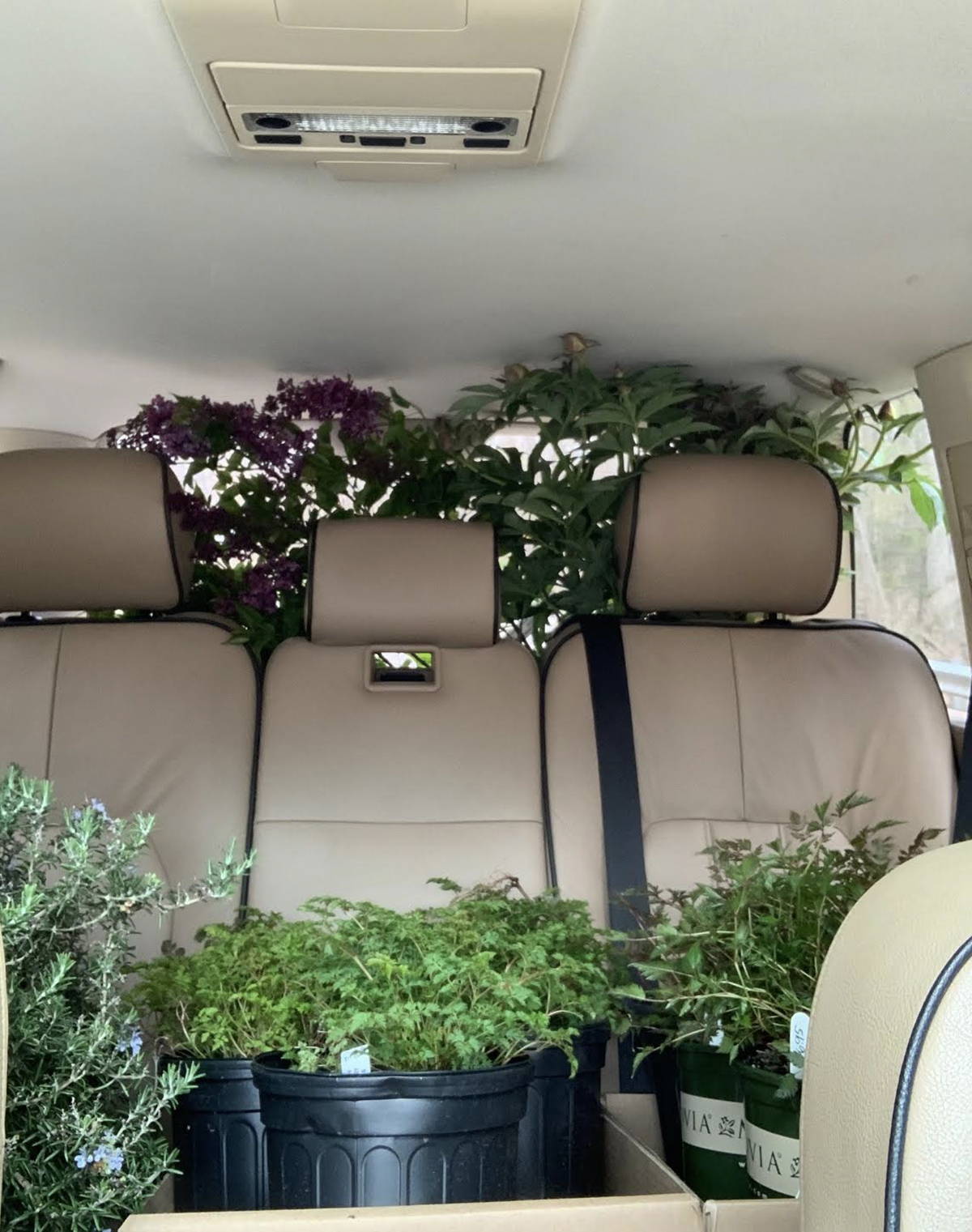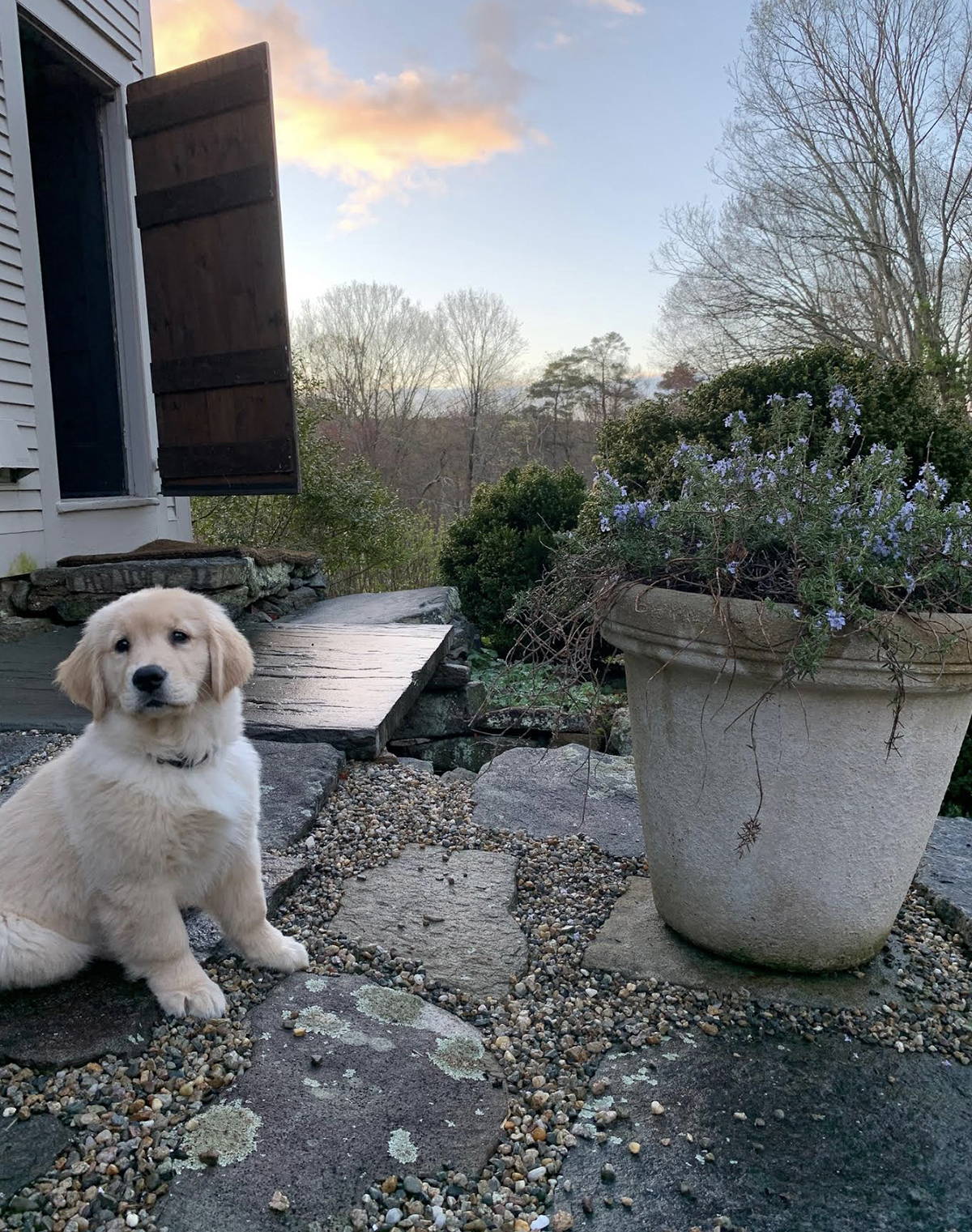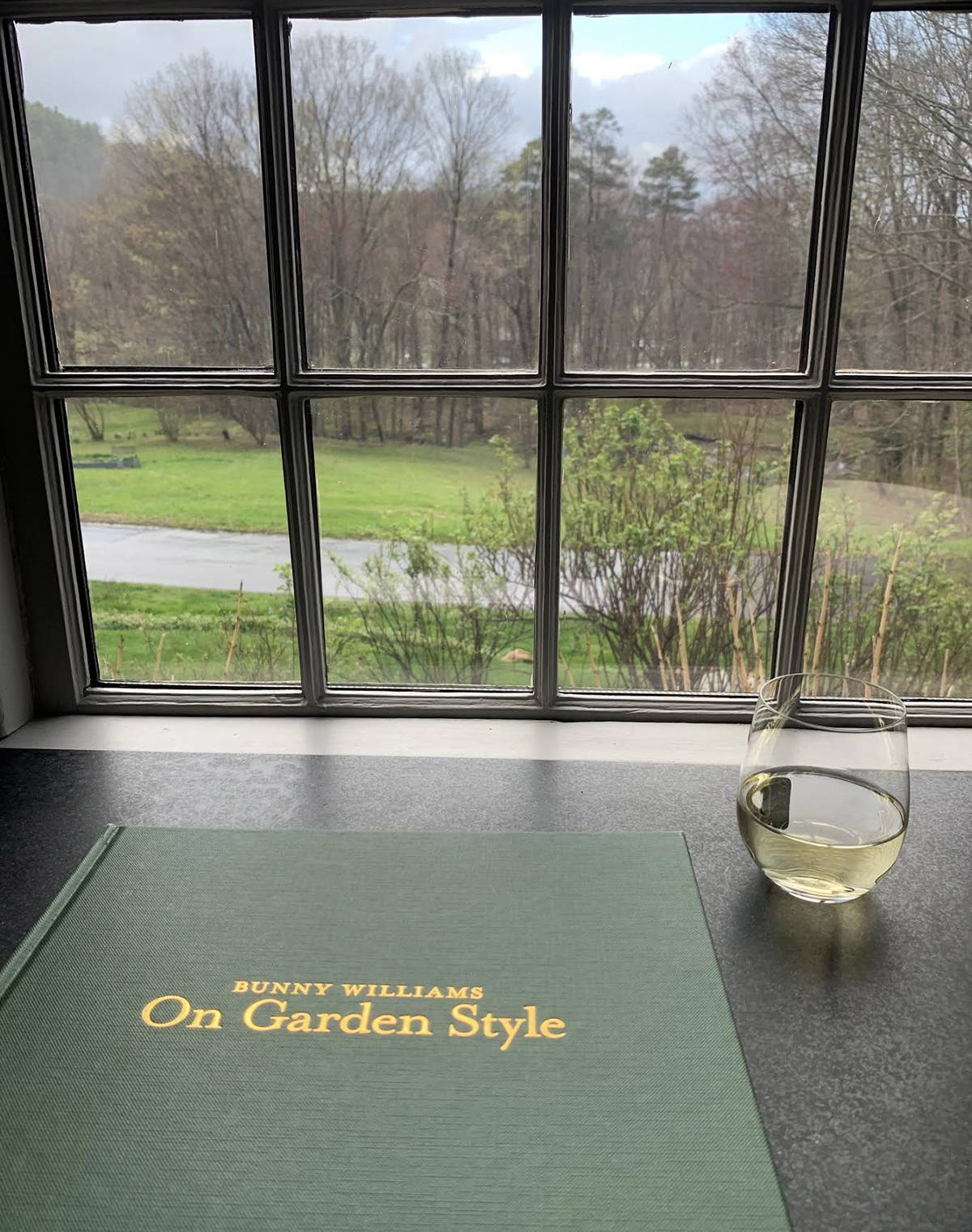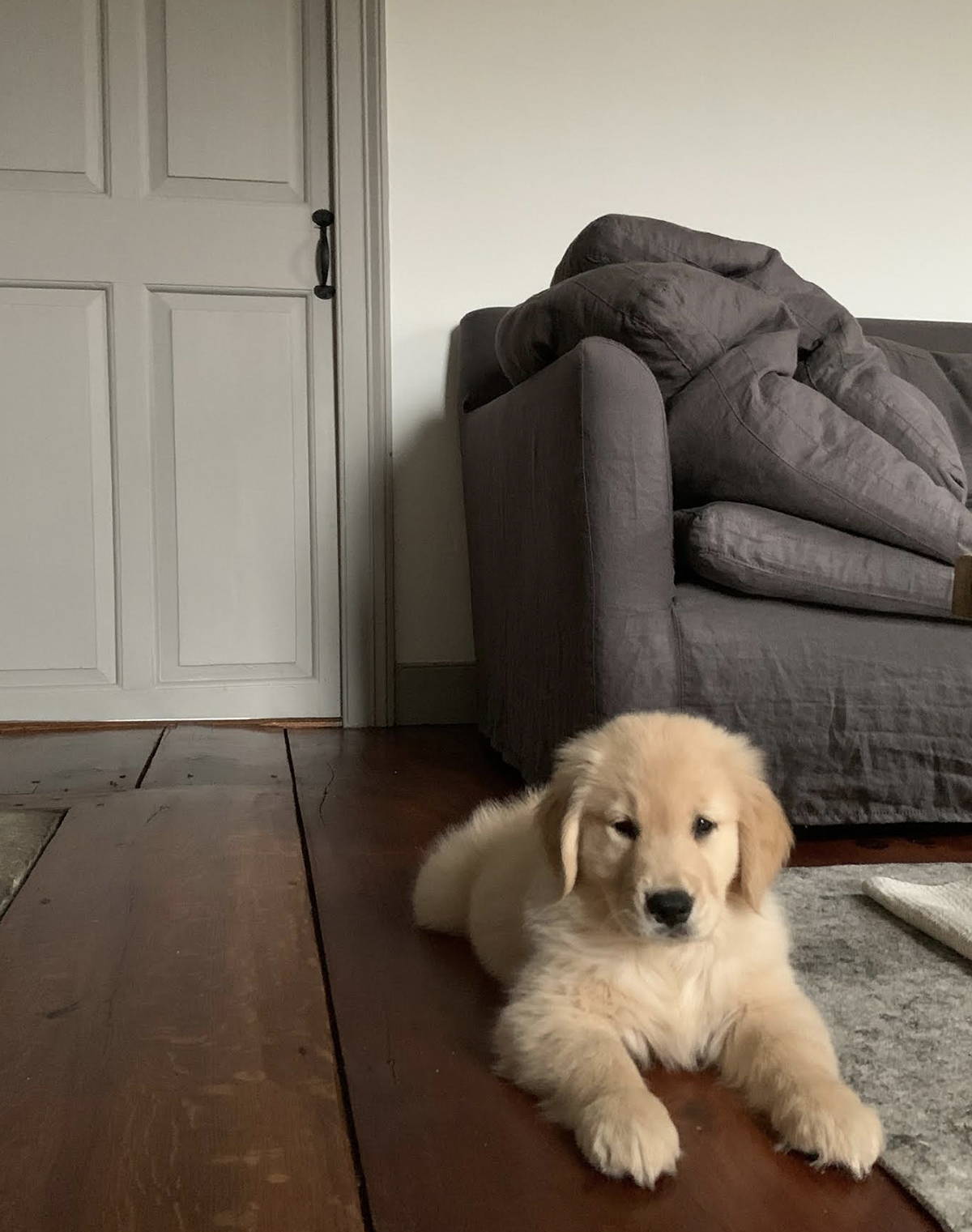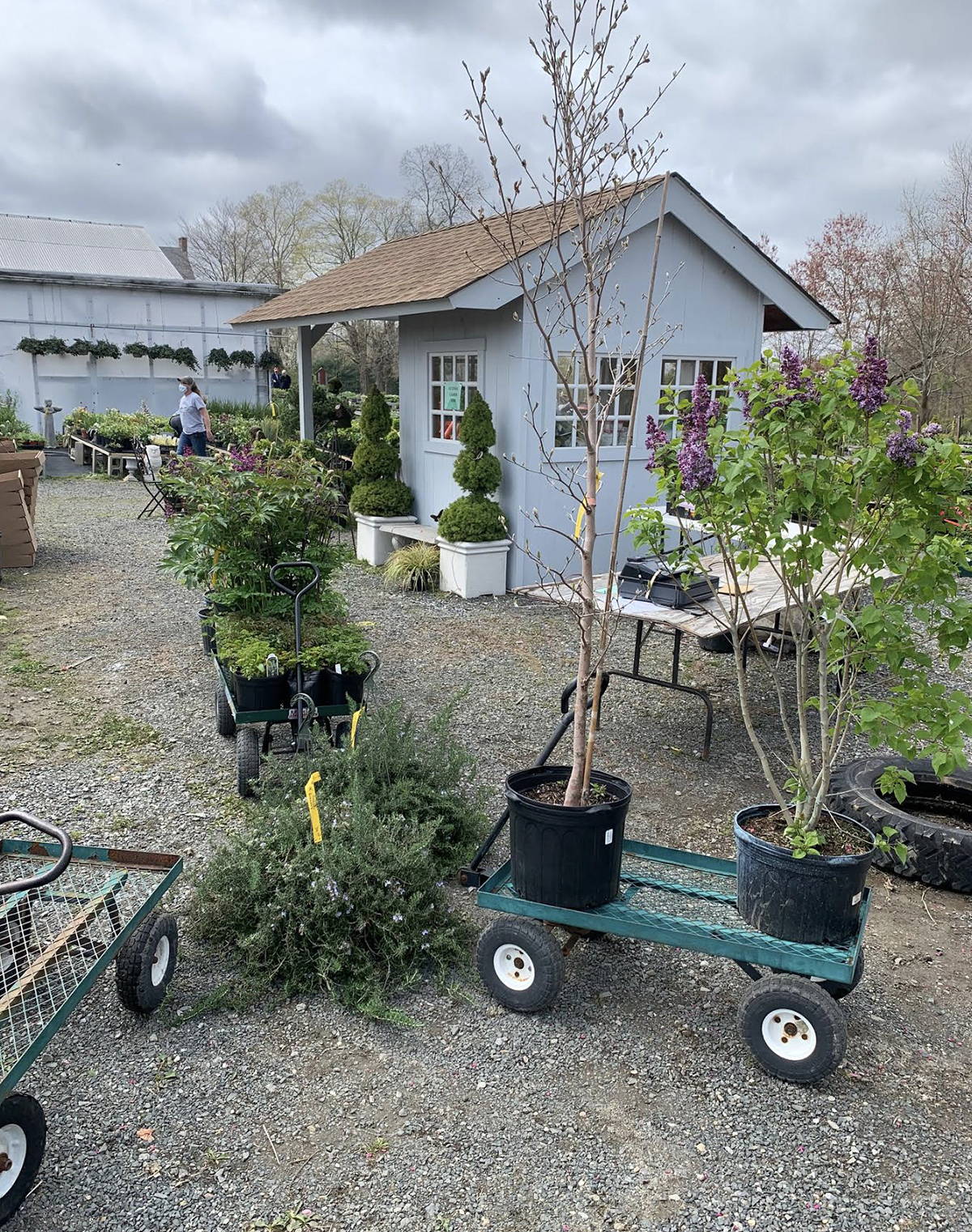 If you're buying anything, what is it?
We got a new golden retriever puppy, Willow, in early April. She's been keeping me busy and my Amazon cart full. Other than dog supplies, I've purchased some plants for the garden and a Japanese Stewartia tree that will someday grow 40 feet. I guess it will always remind me of the quarantine.
*
What's one new thing you started doing big or small since this all happened?
I've started to zoom like everyone else, and housepartying with my family.
*
Tell me about your evening routine! And your morning one too!
Willow has been getting us up around 6:30 so my morning consists of taking her out with my morning coffee then throwing the ball to get some of that puppy energy out so I can get some work done. In the evenings, I find myself pouring a drink a little earlier than normal, lighting incense and trying to relax with all of the uncertainty.
*
What's one way big or small that you've been helping others?
In my little rural town, we have some elderly neighbors, so Nick and I have been checking on them and dropping off cookies.
*
Do you know of any good charities or causes people could donate to?
I've donated to my barber back in the city. We've also donated to a Bon Appétit fundraiser for World Central Kitchen (https://wck.org).
*
What keeps you sane?
Puppy hugs from Willow, my partner Nick, and doing yard work.
*
What one thing can't you wait to do?
Hug my mom.
*
Who has been the most interesting/unexpected person you've spoken with since this started?
Spending a lot more time in my rural Connecticut town has allowed me to spend more time talking to my neighbors, six feet apart. One is a farmer with a pick your own daffodil field, so I've been talking to her about her daffodils. And my other neighbor is a 93-year-old ex Wesleyan professor full of amazing stories, so we've been sharing a distanced drink and walks with him.
*
What's one thing you're grateful for?
My health, my partner, my dog, and my job.
*
Anything else to share?
We're in it together. xx